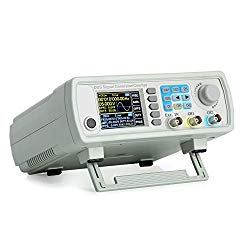 A popular frequency generator (Amazon.com).
Please note: We get commissions for purchases made through links in this post. This is to help support our blog and does not have impact on our recommendations. See disclosure for details.
In addition to an oscilloscope, you also need a frequency generator at home or at work. If you want to quickly provide a sine or square wave signal for a circuit, there is nothing better than a stand-alone frequency generator. All desired parameters are set via the control panel and the circuit and oscilloscope are connected via a BNC cable. It couldn't be simpler.
Which criteria are relevant for a frequency generator? First of all, the number of output channels count. Simple function generators have only one output, better frequency generators have two outputs. The usable frequency range, the adjustable amplitude and the quantization are also important. The frequency range indicates from which minimum to maximum frequency signals can be generated. The wider this range, the better. The amplitude indicates the range in which the voltage of the modulated signal can be varied. As a rule of thumb, this ranges from millivolts to several volts. The quantization indicates how many bits the analog to digital converter has. The higher the bit count, the finer the amplitude steps the frequency generator can produce.
Further parameters are the modulation types, e.g. frequency modulation, amplitude modulation, phase modulation, Frequency Shift Keying, etc. In addition, user-friendliness plays an important role. Even if it is against the trend nowadays, touch devices are not optimal when working in the lab. Often you have a soldering iron, electronics or other objects in your hand and need a good haptic feedback. Push-buttons and knobs on the frequency generator are much easier to operate than touch displays. Pushbuttons are preferable to membrane keys.
Here follows a list of cheap and popular frequency generators.
Frequency Generators - Review of the best function and signal generators: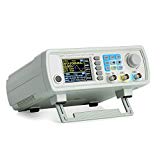 Koolertron Upgraded 15MHz DDS Signal Generator Counter,High Precision Dual-channel Arbitrary Waveform Function Generator Frequency Meter 200MSa/s (15MHz)
Frequency Generator
Frequency Range: 15MHz
Channels: Dual-channel
Sampling Rate: 200MSa/s

Advantage: High frequency precision up to 10-6 orders of magnitude. Frequency Characteristic: Normal Modes & Square & Triangle Wave: 0~15MHz Sawtooth & Arbitrary & TTL Digital Signal Wave: 0~6MHz Square rise time: ≤30nS Frequency accuracy: ±20ppm×10-6 Frequency stability: ±1ppm×10-6/3h Waveform Characteristic: Waveform: Sine, Square, Triangle, Pulse (duty-cycle correction), Partia Sine, CMOS, DC level, Half-wave, Full-Wave, Pos-Ladder, Neg-Ladder,
---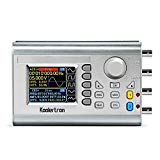 Koolertron 30MHz High Precision DDS Signal Generator Counter, Upgraded Dual-Channel Arbitrary Waveform Function Generator Frequency Meter 266MSa/s (30MHz)
Frequency Generator
Frequency Range: 30MHz
Sampling Rate: 266MSa/s

Advantage: High frequency precision up to 10-6 orders of magnitude. Frequency accuracy: ±20ppm Frequency stability: ±1ppm/3h Waveform Characteristic: Waveform: Sine, Square, Triangle, Pulse (duty-cycle correction,Pulse width and cycle time adjustable), Partial Sine, CMOS, DC level, Half-wave, Full-Wave, Pos-Ladder, Neg-Ladder, Noise, Exponential Rise, Exponential Fall, Tone, Sine Pulse, Lorentz Pulse, and 60 kinds user defined waveform. Phase characteristic:
---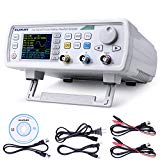 Upgraded 60MHz DDS Signal Generator Counter,Kuman 2.4in Screen Display High Precision Dual-channel Arbitray Waveform Generator Frequency Meter, 250MSa/s, 819214bits, VCO, Burst, Modulation, Counter
Frequency Generator
Frequency Range: 60MHz
Channels: Dual-channel
Sampling Rate: 250MSa/s

Features Various waveforms: Sine, Square (Duty Cycle adjustable), Pulse (Pulse width and cycle time can be set accurately), Triangle/Ramp, CMOS(0~10V), Four channels TTL, Exponential Rise, Exponential Fall, Noise, ECG, DC etc Storage:Enable to store 64 arbitrary waveform data files, each one of waveform storage depth 8192 points 14bits Support two or more signal generators connected to achieve multi-channel output, the maximum support 16-channel
---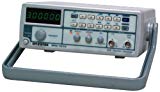 GW Instek SFG-1013 DDS Function Generator with Voltage and 6 Digit LED Display, 0.1Hz to 3MHz Frequency
Frequency Generator
Frequency Range: 3MHz

The SFG-1000 Series, an economic function generator with high accuracy and high stability output, are designed based on the DDS (direct digital synthesized) technology embedded in a large scale FPGA. The 3 MHz frequency range and the output waveform selection of Sine, Square, Triangle and TTL available in the SFG-1000 Series adequately provide the fundamental functions to ensure high confidence in test results. The DDS technology at an affordable
---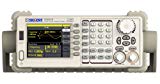 Siglent Technologies SDG805 Siglent Single Channel 5 mhz Bandwidth Signal Generator, Function Generator, Arbitrary Waveform Generator, 125 MSa/s Sampling Rate
Frequency Generator
Sampling Rate: 125 MSa/s

With the new innovated easy Pulse technology, SDG800 can generate pulse of low jitter, quick rising/falling edge regardless of frequency effect, while the duty cycle, edge and pulse width could be widely and accurately adjusted. SDG800 is much superior in performance to similar DDS signal generator. Main Features: ● Advanced DDS technology, 125 MSa/s sampling rate, 14 bit vertical resolution ● Single channel output, 5 kinds of standard waveforms,
---