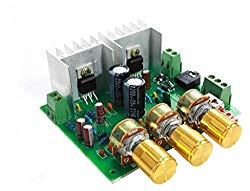 Do It Yourself Amplifier (Amazon.com).
Please note: We get commissions for purchases made through links in this post. This is to help support our blog and does not have impact on our recommendations. See disclosure for details.
An amplifier is an electronic device that is used in wireless communications and broadcasting and its used to increase the amplitude of a signal, therefore its name. It is a stable connection that does not change the frequency and shape of the waveform and there are two main types of amplifiers - power and weak-signal ones. However, this is not the only categorization for amplifiers. There are 5 main classes of amplifiers, each quite different from the other as they are set to be used for relatively specific reasons. When it comes to do-it-yourself amplifiers, one must know the difference between these classes and types in order to find out which one will be the most efficient to them.
more ...