Please note: We get commissions for purchases made through links in this post. This is to help support our blog and does not have impact on our recommendations. See disclosure for details.
Bench power supplies are a valuable tool for every lab. They are used to generate a constant voltage, selectable by the user. They are stable and reliable tools for electronic experiments.
What are the key factors when reviewing a lab supply?
The most important factors of bench top power supplies are:
AC vs. DC
Adjustable Output Voltage Range
Coarse and fine adjustment
Constant current / Current limiting
Programmable Power supply
Digital Interfaces
Number of channels
Displays for voltage and current
Maximum electrical power
Accuracy / Regulated Stability
Galvanic Isolation and Grounding
Switched vs. Linear
Portability
Package Content
AC vs. DC
Lab power supplies are usually used for supplying a circuit with DC voltage. This constant DC voltage is adjustable by the user. AC signals are in most cases not supported by variable power supplies. For AC voltage have a look at universal switching power supplies.
Adjustable Output Voltage and Range
A lab power supply allows to set a variable but constant output voltage. The output voltage range is a key factor when buying a variable power supply. Common voltage ranges are between 0-30 Volts. Although 30 Volts is not common for most circuits it is beneficial to buy a power supply for 30 Volts. With a dual output lab supply or two devices you can generate +15 V and -15 Volts instead of 30 V by connecting two outputs. Positive and negativ voltages are commonly used for operational amplifiers.
Coarse and fine adjustment
Good variable DC power supplies have a knob for coarse and fine adjustment. Coarse adjustment is used for roughly controlling the voltage output. Fine adjustment allows us to precisely set the output voltage of the bench supply. Usually a lab bench power supply has two rotary knobs to controll coarse and fine adjustment. Some devices have only one knob which can be pressed or pulled for fine adjustment.
Current limiting / Constant current
Another important feature is current limiting. Current limiting imposes an upper limit on the DC current. This feature helps us to test electronic circuits efficiently. The user sets a current limit and the bench power supply guarantees that the output current does not exceed this limit. A power supply should withstand a short circuit of the output channel!
This feature is commonly used to generate a constant current. If you set the current limit to a fixed value, e.g. 1 A and plug a high load to the input (e.g. short circuit or a circuit with low input resistance), the output current will be constantly at 1A. In this way you simulate a constant current source.
Programmable Power Supply
In some cases you might not want to adjust the output voltage manually. For this purpose there are special lab power supplies which are programmable via USB. You have to install a USB driver for your computer and chose a programming language to talk to the bench power supply. Usually the driver plugs in as virtual com port and is easy to program in most programming languages.
Digital Interfaces
Common digital interfaces for programmable sources are USB connectors and / or RS232 serial interfaces. If your lab supply is not programmable you won't find any interface.
Number of output channels The number of channels usually scales with the product price. Cheap power supply have only one output port. This means you can connect one circuit with variable voltage. If you need two output channels you could either buy two power supplies and plug them together or use a dual output supply. Dual output bench supplies combine two output channels, voltage control and current adjustment in one unit.
Display for Voltage and Current Very cheap power supplies come without display, which means you have to check the output voltage via multimeter. However, normal supplies show the voltage output and current limit on a display. Both values are very useful to monitor to avoid wrong settings.
Maximum electrical power Not only the output voltage range is important, the maximum output current also matters! If your DC current delivers 10V with a maximum current of 10A you have 10*10=100 Watts of output power. The higher the value the better the device. Buy at least 150 Watts.
Stability / Accuracy
The stability of lab power supplies is shown in the datasheet. As the output voltage is regulated, you will find values for line regulation like e.g. 0.01%+3mV. The percentage value shows the stability for a given output voltage. If your output voltage is e.g. 5V, 0.01% means the value is stable up to 0.5mV+3mV=3.5 mV. Thus the output value will fluctuate around 5V+-3.5mV.
Accuracy means how precisely the selected output voltage is hit. Again the accuracy is given as percentage value plus a common offset in mV. If your datasheet describes accuracy with e.g. 0.5%+20mV, this means for 5V a value of 25mV+20mV=40mV. You may miss the 5V level by 40mV.
All of these values are influenced by temperatur and humidity. Smaller percentage values are better for stability and accuracy. However for most experiments these values are not of high importance.
Galvanic Isolation and Grounding
All bench supplies should have galvanic isolation, which means that neither output channel is connected to mains ground. Thus, a good lab supply has a floating voltage output like a battery. You can connect two galvanic isolated lab power supplies to add voltage levels. However keep an eye to maximum voltage range and output power.
Switched vs Linear
There are two types of power supplies. Switched power supplies directly convert the AC power into a DC voltage. No transformer is required for this step which makes these devices cheaper. However switched power supplies have more output ripple, especially in the audio frequency regime. The might not be as precisely regulated as linear power supplies. Linear DC sources are based on transformers and can archive better accuary and stability. However, switching power supplies become better and better and are in most cases interchangable with transformer based devices.
Portability
In some cases you might want to bring your bench power supply somewhere else. In this case choose a portable device with a small footprint and a low weight. If you want to use it at home or in your lab only, portability should not be an issue.
Package Content
Have a look at the package content of your lab supply. Two cables for connecting a circuit would be nice. You will need banana connectors and crocodile clips anyway. Also have a look for a power cord.
Review of commercial lab bench power supplies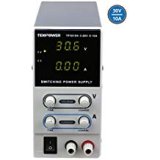 Tekpower TP3005N 150 Watt Lab Supply
Switched power supply
150W
Inexpensive

The bench supply by Tekpower features one output channel, 0-30V DC voltage at a maximum of 5A. This device has 150W output power, a display as well as coarse and fine adjustment knobs for voltage and current. It is a DC regulated switched power supply with current limiting. It is very inexpensive, has a temperature controlled fan, a fuse for overload protection and reverse polarity protection. The LED powered display shows voltage and current. The set contains a user manual, power cord and two banana plug cables with crocodile clips at the other end. This device is well suited for simple circuit experiments and a good starting point for your home lab. It is based on a switched power supply and archives good performance for low frequency applications.
---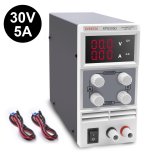 Eventek Bench Power Supply KPS 305D
Switched power supply
150W
short circuit protection

This powersupply by Eventek is an inexpensive single output channel device. It has two knobs for course and fine adjustment of the output voltage. The output voltage level is adjustable between 0-30 Volts with a maximum current of 5A. Thus, the variable switched power supply supports an output power of 150 Watts. The output current is adjustable by course and fine controls. The values are shown on two LCD displays. It has voltage overload protection and short circuit protection. The display resolution is 100 mV and 10 mA. DC voltage is regulated to (0.1 % +3mV). The package includes a power cord, user manual and two output cables with crocodile clips.
---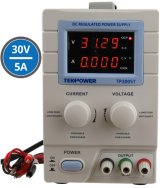 Tekpower TP3005T Linear power supply
Linear DC power supply
150W
Ground connector

The Tekpower TP3005T is a linear DC power supply with 30V output range and 5A load, this 150W output power. It hat one output channel with an additional ground connector. This is usefull in some cases where you need a fixed ground reference. The device is transformer based and has low output ripple and is highly stable. The display shows voltage and output current. There are two knobs for voltage and current. These knobs can be pulled and pushed for coarse and fine adjustment. It has two modes: constant voltage and constant current. Voltage regulation accuracy is 0.01 % +3mV, which is better than the cheaper switched power supplies. The transformer makes the lab supply more heavy (12 pounds) and is less portable. The set comprises a pair of banana cables with alligator clips and a power cord.
Here is a short video review of the TP3005T. (Please enable cookies to watch the video.)
---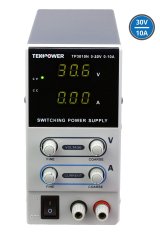 Tekpower TP3010N 300W Lab Power Supply
Switched power supply
300W
Digital display

The Tekpower TP3010N lab supply is a switched power supply with up to 10 Amps. It supports 30V with 10A, resulting in 300W electrical output power. Voltage and current limits are adjustable by coarse and fine control. The voltage and current limits are shown on the display. Power cord and banana plugs are included. The device has a pretty good stability for a switched power supply (0.02% + 10mV). This device is well suited for driving how power loads like LEDs or heating devices requirung up to 10A current.
---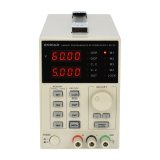 Programmable Lab Power Supply KORAD KA6005P
Switched power supply
300W
Programmable

Korad offers a programmable linear power supply for an affordable price. The KA6005P delivers up to 60V with 5 Amps DC current, resulting in 300W output power. The device has a nice turning wheel for adjusting voltage and current limit. It can store 4 sets of parameters and recall them very fast. It is proteced against short circuit and overload. Output can be turned off by pressing a button. As a special feature this power supply is programmable through USB or RS232 serial connector. Load regulation and accuracy are very good, the output has low ripple. The display has 4 LED based digits. The single channel output allows constant voltage or constant current. It includes a power cord, suitable cables and software for remote control.
---

Tekpower TP3003D-3 Triple Output Power supply
Linear transformer based
195W
Triple Output

The Tekpower TP3003D-3 is a digital triple output power supply. Two output channels can be freely adjusted between 0-30 Volts. Each channels supports 3A current. The third channels allows an output voltage between 0-5 V. The first two channels can be put in series to adjust between -30 ..30 V with 3A or put in parallel with 0..30 V and 6A of output current. There is a switch button for serial or parallel output. It comes with rotary switches for adjusting output voltage and current limit. It is a linear transformer based power supply with good stability. The display shows voltage and current for the channels. It comes with a power cord and banana cables with crocodile clips.