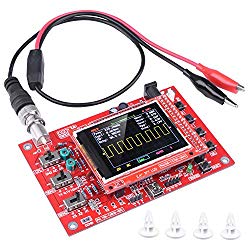 Osilloscope kit (Amazon.com).
Please note: We get commissions for purchases made through links in this post. This is to help support our blog and does not have impact on our recommendations. See disclosure for details.
Oscilloscope kits are a good alternative for measuring time varying signals. They are cheap and good for simple measurements.
In electronics and electrical engineering, the multimeter and the oscilloscope are very important devices. The oscilloscope in particular is used to make electronic processes visible. For example, the sine curve of a voltage curve is made visible on the screen. Individual signals and their length can also be displayed in this way. The oscilloscope is used for checking or error detection.
Oscilloscope kits are a good opportunity to buy an oscilloscope. The individual parts of an oscilloscope like display, processing electronics, PCB boards, etc. are included in such packages. Depending on the model, such a kit can have different characteristics like number of input channels, analog bandwidth, voltage range, number of memory points, etc. Depending on your needs you can choose a suitable kit and with a little patience and tinkering you can create a cheap oscilloscope.
These kits often come with compact displays and corresponding software, so that you can get started immediately after assembly. The firmware is usually pre-programmed, so that on hardware level all things should run immediately. The kits can often be operated with a 9V block and are therefore ground free. This makes them mobile and versatile.
We have put together some popular kits for you here. We have analysed the most important characteristics of the kits and have highlighted them for you.
Review of the best diy oscilloscope kits.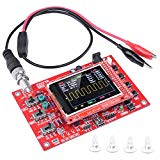 Quimat DSO138 Pocket-size Digital Oscilloscope Kit Open Source 2.4 inch TFT 1Msps with Probe Assembled Vision (Welded)
DIY oscilloscope kit
Type: Pocket-size
Sample Rate: 1Msps
Extra Parts: Probe
Pre-Built: Assembled

Detailed assembly instructions are provided in combination with troubleshooting guide and schematc. Features of DSO138: Analog bandwidth: 0 - 200KHz Sampling rate: 1Msps max Sensitivity: 10mV/Div - 5V/Div Sensitivity error: < 5% Vertical resolution: 12-bit Timebase: 10us/Div - 500s/Div Record length: 1024 points Built-in 1KHz/3.3V test signal Waveform frozen (HOLD) function available NOTE: 9V DC power supply required. Package included: 1 DSO138
---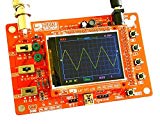 DSO138 Digital Oscilloscope Kit 2.4'' TFT Handheld Pocket-size DIY Parts Electronic Learning Set
DIY oscilloscope kit
Type: Handheld
Display: 2.4'' TFT
---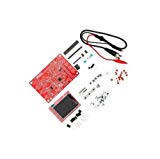 DS0138 Digital Oscilloscope DIY Kit+ Probe Unsoldered Workshop STM32 200khz
DIY oscilloscope kit
Extra Parts: Probe

Students can get in at the same time making a practical tool for audio, video synchronization , low-frequency switching power supply , infrared receiver transmitter signal waveform and many other occasions, effectively observed and measured , increased interest in learning, improve learning outcomes . Available source , the ability of a friend can be secondary development kit based on , for example, it can be changed to Millivoltmeter , data loggers
---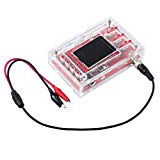 AUTOUTLET Fully Welded Assembled DSO138 Oscilloscope Kit 2.4'' TFT 1Msps Digital Oscilloscope Probe Lead+Acrylic Case DIY, Pefect for Arduino etc
DIY oscilloscope kit
Display: 2.4'' TFT
Sample Rate: 1Msps
Extra Parts: Probe
Pre-Built: Assembled

Overview: Training for electronic production,complete detailed descriptive information,including schematics,production guidance,instructions,troubleshooting methods,etc.,making a high success rate . Available source,the ability of a friend can be secondary development kit based on,for example,it can be changed to Millivoltmeter,data loggers,and so on . Specification: Power Input:DC 9V(Power adapter is not included) Maximum real-time sampling rate
---