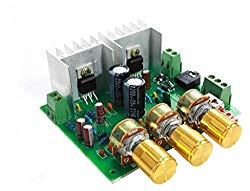 Do It Yourself Amplifier (Amazon.com).
Please note: We get commissions for purchases made through links in this post. This is to help support our blog and does not have impact on our recommendations. See disclosure for details.
An amplifier is an electronic device that is used in wireless communications and broadcasting and its used to increase the amplitude of a signal, therefore its name. It is a stable connection that does not change the frequency and shape of the waveform and there are two main types of amplifiers - power and weak-signal ones. However, this is not the only categorization for amplifiers. There are 5 main classes of amplifiers, each quite different from the other as they are set to be used for relatively specific reasons. When it comes to do-it-yourself amplifiers, one must know the difference between these classes and types in order to find out which one will be the most efficient to them.
The most common amplifier class is class A amplifier. With its simple design and low signal distortion levels it is by so far the best quality amplifier class. They are, however, not a good choice when it comes to high-power amplifications because of the continuous loss of power as it carries current and the amount of heat they can produce. The efficiency rates they can achieve is from 15% to 35% with inductive output coupling, however, they can drop even lower when a source with high dynamics is used.
The class B amplifiers are what a person needs when we want to avoid the heat producing and it overall has a higher efficiency - between 50% and 78.5%. It can be found used for professional reasons but as good as it sounds, pure amplifiers of such class can be very hard to find because of the crossover distortion that can sometimes affect the waveform. Even if it sounds better than class A, this class has a very great downside.
Class A/B amplifiers are, as you might already deduct, combination of the two previously said classes. Their efficiency can go up to 70% and are found to be the most popular ones nowadays. The best part about it is that it eliminates the crossover distortion problem that class B has due to the fact that there is no gap in the cycle and the crossover distortion is being pushed down in order to avoid such problems.
The class G&H amplifiers is a variation of two unofficially recognized classes. Its efficiency can be about 70% and it really doesn't have any technical downsides - the quality, no interruptions or crossover distortions, it handles high amplitude transients. The only negative point is actually its price. This class can be found very expensive.
So far, the best possible efficiency one can get is from the class D amplifiers. It can reach a number like 95% and it is so far the best choice because of its light weight as well. A bad side can be a varying sound quality depending on the speaker and the risk of affecting high frequency audio reproduction when operating with low frequencies. Of course, there are more letters in the alphabet and many more amplifier classes, but these are the main ones sound-wise.
A lot of people who might have already done some research on how to make a diy amplifier (see video) have probably already heard or seen the name Gainclone. It is a type of audio amplifier build by hobbyist and it is also known as chipamp. This product became very popular in the do-it-yourself community and now there are hundreds of guides online of people who have built clones of it with detailed instructions and lists with the specific parts they have used.
There are a lot of things that a person has to be careful about when buying all of the parts before starting to build their diy amplifiers. A person must have made one very important choice when buying all of the parts - price or quality. Of course, the reason behind building something like that by yourself is mainly that it will be a lot cheaper rather than going to the store and giving a quite significant amount of money. The parts for a diy amplifier can overall cost less than $100 after all.
The main categories for the parts are power suppliers, amplifiers, connectors and casing, and of course you must be sure that the first three categories are compatible with each other. There are people who choose to buy the amplifier board and some prefer to make it themselves. Of course, it is a lot easier to just buy this bit, even online on Amazon. There is a wide variety of boards with different operating voltage, output power, output impedance, and many more. Prices vary from as much as $10 to a bigger amount like $300-$500. When buying this part, sellers always put a diy step-by-step manual in the package as well, which will definitely come in handy when you start building everything. Pretty much everyone can make something like that by themselves if they have a little bit of free time on their hands.
Power supply wise, the only thing that might be more expensive is your transformer. The values of the output volts are the most important thing to look for, however a person must be very careful with this bit. Aiming for higher numbers is not the greatest choice to make, as the possibility or reaching such values is minimal and it could only be an overkill for the amplifier itself, as you are, after all, building a simple diy amplifier, not something professional.
When it comes to building your own amplifier board, however, it takes a lot more time. You have to start from scratch, and first off you have to build it theoretically, calculate the values that you are planning on achieving and that is something that only people who already have an experience working in this field can complete without many problems. If you are simply an inquisitive hobbyist and genuinely want to build your own amplifier, it will be easier to just buy your board and design everything else by yourself.
Please find below a reviewed list of the most common diy amplifiers.
References:
Review of the best diy amplifier kits.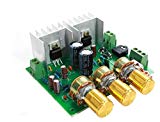 Top-cofrLD 2 Channel 2.0 15W+15W TDA2030A Hifi Stereo Amplifier AMP Board DIY Kit
DIY amplifier
Watt: 15W
Channel: 2 Channel

Operating voltage: AC 12V, the power requirements of 15W-20w Maximum output power: left and right channel 15Wx2 Board size: 75mmx90mm (contain theradiator and potentiometer handle and knob)Output Impedance :4-8 ohms, speaker can drive around 15w-45w Kindly Note:This is a kit you need to solder it by yourself (It is very easy and funny,you will enjoy the DIY )
---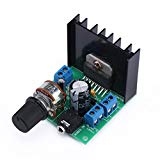 DROK TDA7297 15W+15W Audio Power Amplifier Module AC/DC 9-18V 2.0 Dual Channel Stereo Amp Board, DIY Sound System Component
DIY amplifier
Watt: 15W
Channel: Dual Channel

Parameters:Power Supply: AC/DC 9-18V, Recommend 12V 2AOutput Impedance:4-8 ohmsEfficiency: up to 90%Output Power: 15W+15WChip: TDA7297 Dual-Channel Amplifier ChipPlease follow the picture to connect the Power Supply and Speaker. Package Includes:1x Mini Amplifier
---
Lysignal Fever 6J1 Tube Amplifiers Board Preamplifier Headphone Pre-Amp Amplifier Audio Board DIY Kits
DIY amplifier
Special: Tube

Features: 100%Brand New and High Quality. Specifications: Models: 6J1 tube Channel types: 2.0 / stereo Working voltage: AC12V 0.8 A The power interface: 5.5 2.5 plug Circuit board size: 77 x 75 x 52 mm Potentiometer role: volume adjustment + power switch. Package Included : 1 × 6J1 Tube Pre-amplifier Board DIY Kits Note: Please contact the seller on amazon for the instructions.
---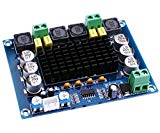 Audio Amplifier Board, Yeeco Dual Channel 120W+120W Digital Power Amplifier Board DC 12-26V 20V 24V Car Audio Stereo AMP Module with XH2.54-3 Pin Audio Input, DIY Sound System Component
DIY amplifier
Watt: 120W
Channel: Dual Channel

Product Parameter: Power supply: DC 12-26V Output power: Max 1202W SNR: 100db Channel amount: Dual channel stereo Efficiency: up to 90% Size: 90mm68mm16mm (length width height) Precautions (the following problem may happen to you): 1. Electromagnetic interference on the power supply Suggested treatment: Keep the amplifier a certain distance away from the power supply to avoid electromagnetic interference; Each amplifier chip has a unique sound
---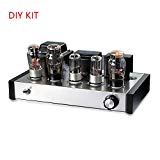 Nobsound 6N8P+6P3P HIFI Single-Ended Pure Class A Tube Amp Vacuum Power Amplifier DIY Kit
DIY amplifier
Class: Class A
Special: Tube

Item specifics:
---