A popular current clamp (Amazon.com).
Please note: We get commissions for purchases made through links in this post. This is to help support our blog and does not have impact on our recommendations. See disclosure for details.
Current clamps or clamp meters are measuring devices that allow non-contact recording of current and voltage. The clamp is placed around the current wire and the electrical parameters are measured by this device.
Current clamps measure the current in a single wire. The device measures the magnetic field <https://en.wikipedia.org/wiki/Current_clamp>`__ and thus measure the current of a single wire. Multi-wire cables cannot be directly measured because the current flowing back and forth cancels out. However, current clamps measure without contact, i.e. the circuit does not have to be disconnected.
Important purchase criteria are measuring range, measuring types, as well as direct and alternating current.
Types of measurement
Conventional current clamps can measure direct and alternating current. It is also possible to measure DC and AC voltage. Finally it is possible to deduce the resistance.
Measuring range
The measuring range indicates the range in which the above-mentioned parameters can be measured, e.g. maximum and minimum current, voltage, etc.
Features
Further are e.g. Data Hold, Max Peak evaluation and so on. Some devices also allow measurements as with conventional multimeters.
Review of the best and affordable clamp meters.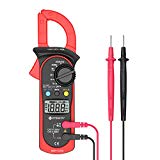 Etekcity Digital Clamp Meter Multimeter, MSR-C600 Auto-Ranging Multimeters AC/DC voltmeter Ammeter with Voltage, AC Current, Resistance, Amp, Volt, Ohm, Diode and Continuity Test Tester, Red/Black

Etekcity's Digital Clamp Multimeter makes household electricity maintenance safe and simple. While having the capability to test AC/DC voltage, resistance, continuity and diodes, the built-in clamp enables you to measure AC current without needing to break circuits to come into direct hazardous contact. The multimeter also includes safely insulated test probes with plastic gripping for safer handling while measuring.
---
Uni-T B4Q094 UT210E True RMS AC/DC Current Mini Clamp M W Capacitance Tester

Specifications: Display Count: 2000 Auto Range: Yes Jaw Capacity: 17mm True RMS: Yes Diode: Around 3.0V V.F.C. : Yes NCV: Yes Data Hold: Yes Zero Mode: Yes LCD Backlight: Yes Auto Power Of: Around 15 Minutes Continuity Buzzer: Yes Low Battery Indication: 2.5V Input Protection: Yes Input Impedance for DCV: 10M AC Current (A) 2A/20A/100A (±2.5%+5) DC Current (A) 2A/20A/100A (±2%+3) AC Voltage (V) 2V/20V200V/600V (1.0%+3) DC Voltage (V) 200mV/2V/20V200V/600V
---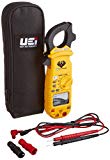 UEi Test Instruments DL369 Digital Clamp-On Meter

UEi Test Instruments designed the DL369 to offer professionals an affordable, clamp-on meter. Designed for the real world, the DL369 includes a dual display for simultaneous measurement, and built-in test lead storage. UEi backs its products with dedicated technical support, service and repair teams.
---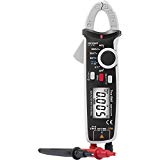 Voltcraft Current Clamp Meter VC330; CAT II 600 V, CAT III 300 V, 2000 Counts, Compact and Robust, AC/DC Current Reading, Multimeter Functions, True RMS Readings, Resistance Reading
Current Clamp
Voltage: 600 V
AC/DC
---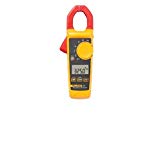 Fluke 325 Clamp Multimeter AC-DC TRMS

The Fluke true-rms clamp meter is a great clamp meter for general, grab-and-go troubleshooting needs. The FLUKE-325 is ideally suited for current measurements up to 400 a in tight cable compartments.
---